Click Photos to view larger image

Baguia Highlights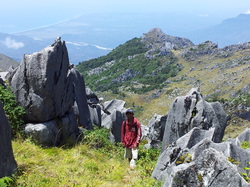 The main draw card for Baguia is the popular and beautiful climb to the peak of
Mt Matebian
, where you are rewarded at the top with stunning views of both the North and South coasts of Timor-Leste. Even if the peak is shrouded in the clouds you may at least get a fabulous view of one side of the country.
Mt. Matebian
is the second highest peak in Timor-Leste, at 2315 meters. It is considered a sacred place by the local population. The mountain was a refuge for the Timorese resistance and local people during the Indonesian occupation.
A Guide is needed
as there is no defined path. The Guesthouse can organise a guide for you or just ask in Baguia.
Leaving from Baguia, you normally start your ascent from the delightful village of Waiboro. You will pass through forest and open hills and as you climb steadily upwards, have spectacular views of the southern side of Timor-Leste out to the Timor Sea.
If you aren't into mountain walking it is always worth driving up the road beyond Baguia to at least the village of Osso Huna, as there are stunning views as the road climbs along the side of Mt Matebian.
For more pictures of Baguia and Mt Matebian check out our photo gallery.
---
ACCOMMODATION in Baguia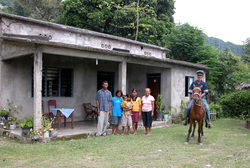 In Baguia the Rabilai Guesthouse has 6 rooms for rent. The Guesthouse is located 50 metres up the hill, after the Baguia Church. The driveway is on the right-hand side just before a sharp left-hand bend in the road.

Sr. Martino and his wife Sra. Adelaide own and run the guesthouse and will try and accomodate any of your needs. Sra. Adelaide is a good cook and provides simple, but tasty meals.



---
The rooms are small and simple with a range of prices. The two most expensive have a basic ensuite bathroom. The other rooms share a communal bathroom. The water to wash yourself and flush the toilets is held in a large 'mandi' style bucket.


Reservations: Phone Sra. Adelaide on +670 7737 6137
(Note: English is basic, but she speaks Tetum, Indonesian and Portuguese)




---
How to get to Baguia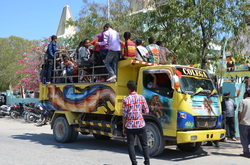 Baguia has a daily truck to and from Baucau.
In Baguia the truck normally departs between midnight and 2am.
In Baucau, the truck normally leaves from near the market in Kota Baru (New Town) around 7am each morning.

There are regular bus services between Baucau and Dili, which depart once they have filled (or over-filled!) with passengers.
---
Traveling by 4WD. The turnoff to Baguia (on your right-side) is signposted at Laga, which is about 40 minutes after Baucau.

From Dili the travel time is approximately 6 hours as the dirt road from the Laga turnoff to Baguia is in very poor condition, especially in the wet season.